Amman Catidel & Roman Theatre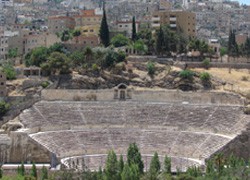 Amman, the capital of Jordan, is a fascinating city of contrasts – a unique blend of old and new, ideally situated on a hilly area between the desert and the fertile Jordan Valley.

In the commercial heart of the city, ultra-modern buildings, hotels, smart restaurants, art galleries and boutiques rub shoulders comfortably with traditional coffee shops and tiny artisans' workshops. Everywhere there is evidence of the city's much older past.

Due to the city's modern-day prosperity and temperate climate, almost half of Jordan's population is concentrated in the Amman area. The residential suburbs consist of mainly tree-lined streets and avenues flanked by elegant, almost uniformly white houses in accordance with a municipal law, which states that all buildings must be faced with local stone.

The downtown area is much older and more traditional with smaller businesses producing and selling everything from fabulous jewelry to everyday household items.

The people of Amman are multi-cultural, multi-denominational, well-educated and extremely hospitable. They welcome visitors and take pride in showing them around their fascinating and vibrant city.

There are a number of renovations and excavations taking place that have revealed remains from the Neolithic period, as well as from the Hellenistic and late Roman to Arab Islamic Ages. The site which is known as the Citadel includes many structures such as the Temple of Hercules, the Umayyad Palace and the Byzantine Church. At the foot of the Citadel lies the 6,000 seat Roman Theater, which is a deep-sided bowl carved into the hill and is still being used for cultural events. Another newly restored theater is the 500-seat Odeon that is used for concerts. The three museums found in the area offer a glimpse of history and culture; they are the Jordan Archaeological Museum, The Folklore Museum and the Museum of Popular Traditions.